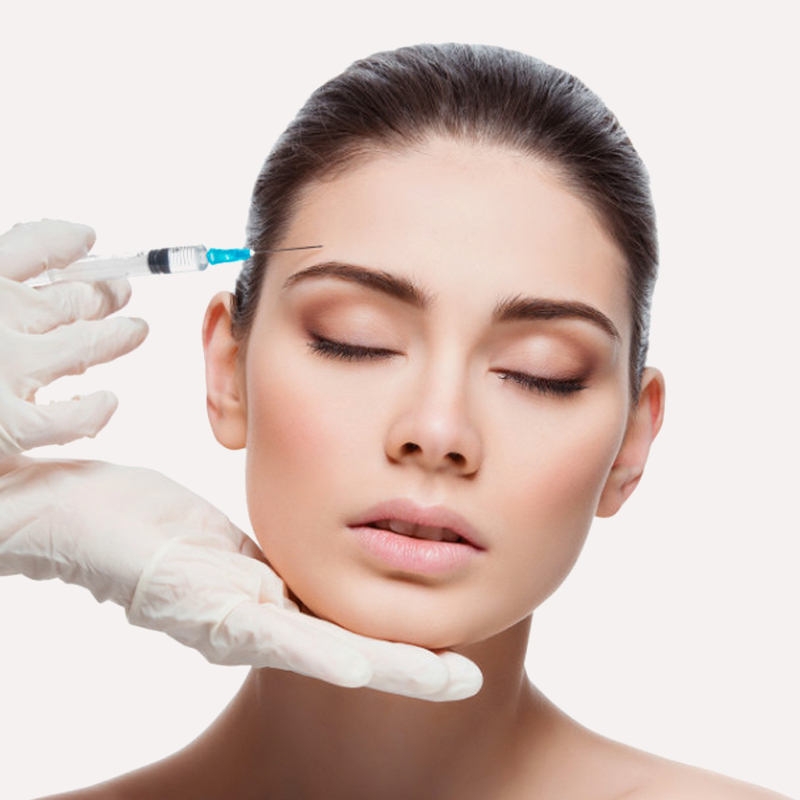 Botox
Botulinum toxin (Type A) is a cosmetic injection that blocks the nerve signals that cause muscles to contract. This effect relaxes and smooths the look of lines and wrinkles caused by repetitive movements on the face—most commonly, between the brows, crows-feet around the eyes, and horizontal forehead creases. Botulinum toxin is also used cosmetically to balance facial asymmetry and relax tight neck bands, as well as medically to reduce perspiration and to treat migraine headaches.
When to Consider Botulinum Toxin
Deep lines between your eyes make you look tired, angry, sad, or upset.
Your facial expressions cause wrinkles in and around your eyes and forehead.
There is asymmetry in your eyebrows or face that can be corrected by relaxing a muscle.
You suffer from migraine headaches and botulinum toxin may provide relief from this condition.
Pros
Injections are relatively painless and carry a low risk, with little-to-no downtime.
Can help you appear less angry and more approachable
Make subtle changes that give you a refreshed or well-rested look
Cons
Effects of injections will only last three to six months
Risk of droopy eye or muscle if injected incorrectly
If area to be injected is sensitive, bruising may occur
Are you a good candidate for botulinum toxin injections?
You may consider botulinum toxin injections for cosmetic reasons if you are developing lines and wrinkles on your face due to common facial movements. Depending on genetics, lines can appear on the face as early as your late twenties to as late as your early forties Certain wrinkles or creases in the face caused by the weakening or sinking of the soft tissue, such as the nasolabial folds, which extend from the sides of the nose to the corners of the mouth, are generally best treated with fillers. Botox is used to soften or partially improve them If you are in good general health, have a positive attitude and realistic expectations, you are most likely a good candidate for this procedure.