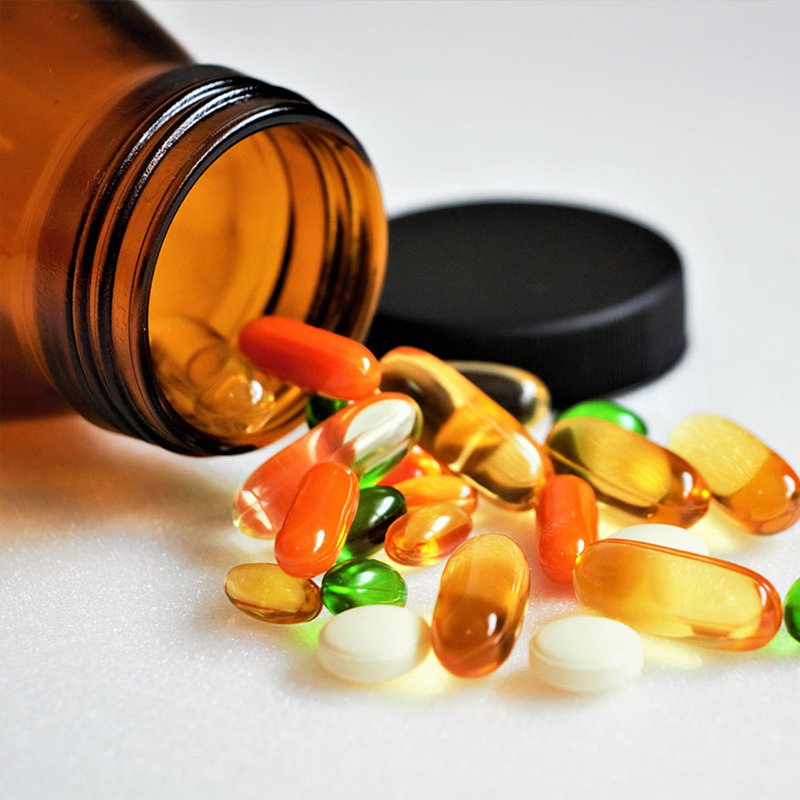 Vitamins, Supplements & Nutrition
Nearly all American adults are slightly deficient in some vitamins. Vitamin deficiencies can be a serious problem, contributing to heart disease, stroke, and osteoporosis. The addition of specific vitamins and supplements can drastically improve your body's ability to function. After a thorough blood analysis by Dr. Daniels, you will learn which vitamins may be deficient in your body.
Dietary supplements come in a variety of forms: traditional tablets, capsules, chewables, liquids and powders. If you don't eat a nutritious variety of foods, some supplements might help you get adequate amounts of essential nutrients.
The aging process and responses to stress, often require an approach that includes treating nervous, endocrine and immune systems functions as an integrated approach. At our practice, we test our patients with a sophisticated and thorough blood analysis. In this way, we can uncover nutritional imbalances which can affect many body systems. Once Dr. Daniels gathers the integrated information from a patient's lab results, he and the patient together can better address these underlying imbalances
Vitamins, supplements, and optimal nutrition can improve joint and bone health, increase energy, boost metabolism, aid in digestion, and prevent disease.
Adequate nutrition is vital because nutrient deficiencies prevent hormones from carrying out their normal actions. Good nutrition effectively treats a wide range of different disorders because it works to restore the body's ability to heal itself. Rather than treating only the symptoms of a certain disease, adequate nutrition therapy treats the causes of most degenerative diseases, toxicity and nutritional deficiencies.
Here at Daniels Vein & Cosmetic Center, your first visit is a consultation that includes a discussion with Dr. Daniels of current symptoms and concerns. The patient may also be directed to our knowledgeable dietician for further assistance. A combination of therapies using medication, diet and nutritional supplements are considered for each patient's goal in optimal nutrition.
Follow up visits will discuss the results of this testing and prescribe a personalized set of medication as well as nutritional recommendations, and possibly even hormonal therapies. A follow up appointment for testing to ensure effectiveness of therapy.
Schedule your consultation with Dr. Daniels and our dietician today!